WHERE WE ARE SITUATED
We are in Punta Prima in the La Campana centro commercial centre, if
you leave the main 332 at the blue bridge, pass the petrol station on
the right hand side you can find us in the next centre on the upper floor.
It is easily visible from the 332 and parking is available at all times.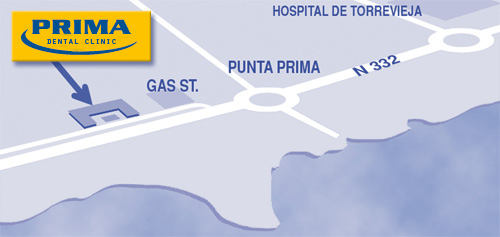 DENTAL HYGIENIST
The best way to ensure that your smile is in the best health possible is to
schedule regular appointments for scale and polish. During your appointment,
the plaque, bacteria, and tartar that develop over time are removed from
your teeth.
Bacteria, tartar, and plaque are the cause for nearly all decay that occurs on
your teeth. The crevices of your teeth, combined with your own saliva, are a
heaven for bacteria to thrive, even spreading into or around the gum tissue.
While brushing and flossing are the best ways to remove plaque, tartar, and
bacteria daily, regular teeth cleaning is essential to eliminating build-ups that
flossing and brushing fail to remove.
Professional teeth cleaning is more thorough and precise than anything you
can do alone at home and prevent periodontal diseases