WHERE WE ARE SITUATED
We are in Punta Prima in the La Campana centro commercial centre, if
you leave the main 332 at the blue bridge, pass the petrol station on
the right hand side you can find us in the next centre on the upper floor.
It is easily visible from the 332 and parking is available at all times.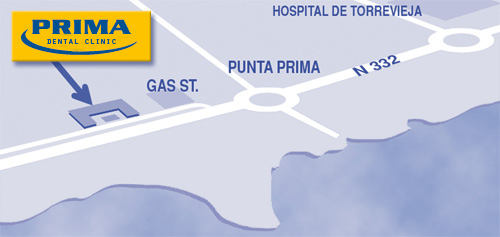 IMPLANTS
As we age, some of us will lose teeth due to gum disease, injury or decay.
In addition to bringing about unwanted changes to a person's facial
appearance, missing teeth have a negative effect on that person's
confidence and self-esteem. With the advent of implant dentistry,
however, those who are missing one, two or several teeth no longer
have to accept a lifetime of embarrassment and inconvenience.
Dental implants, sturdy titanium posts that are anchored directly into
the jawbone and topped with realistic replacement teeth, provide the
security and usability of permanently placed teeth.
What are Dental Implants?
Dental implants are a restorative dentistry option that allows patients to
replace missing teeth with ones that look, feel, and perform like their own.
During the first step of this procedure, a dentist skilled in implant surgery,
places a titanium screw in the patient's jaw. After the bone has healed
around the screw and everything is stable, a replacement crown,
bridge or denture can be attached to the implant.
Implants specialist
Dr. Leo Allasia, one of Valencias leading implants specialist,
is now working together with us at our clinic. See his
curriculum vitae video here: